Adult ART and Wine Nights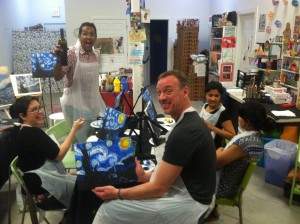 773.636.1968                  thepaintbrush@thepaintbrush.net
The Paintbrush After Dark
Adults-Only Events
 DURING THE PANDEMIC, WE ARE HOLDING ONLINE PAINT EVENTS and PRIVATE EVENTS WITH LIMITED SEATING (following Covid-19 safety measures).
Please text 773.636.1968 or email thepaintbrush@thepaintbrush.net to plan your private online or in-person painting event. 
ADULTS At-Home Valentine's Day ART&Wine Night
Friday, February 12
7:00-8:30
Instructor will guide you in creating your own Valentine's painting.
Safe date night or Galentine's or solo night in!
$20 (additional painters on your screen/in your home just $12 each; add supplies $15)
(Teens and 'tweens are welcome to join.)
 Third Thursdays Painting pARTy
Thursday, October 15, 7:00pm
Miss Alanna guides us in painting perfect Halloween ART!
Fun for the whole family (recommended for families with kids at least 8 years old). Or join on your own!
ART supplies available for pick up or local delivery. (Shipping also available for out-of-own participants.)
—————————————————————————————————-
Live, Online Guided Painting Classes Celebrating Black ARTists and Benefitting Black Lives Matter Chicago
July 9 and 23 at 7pm
A portion of the profits of this special event will be donated to Black Lives Matter Chicago, a 100% volunteer-run organization that fights for justice, equitable systems and an end to violence and criminalization in the Black community. It is our responsibility to help combat racism. Let's start together, with ART!
$30/person
ART supplies available
Via Zoom
Live Online Guided Painting Class (June)
THURSDAYS in June at 7:00pm
June 11 Matisse's Daisies
June 18 Warhol's Liz #3
June 25 Magirtte's The Banquet
Just $20/class
NO EXPERIENCE NECESSARY!
That's the beauty of this! We guide you; all you have to be able to do is follow directions! (You can do it!)
ART Supplies available for No-Contact Pick-Up
(must be ordered by 3pm Thursday).
If you can't pick up supplies, we can help you improvise.
Because this class takes place via Zoom, painters of all ages may join!
Tell your friends! And then
At-Home ART&WINE Nights (May 2020)
Thursdays: 7pm
May 7: Monet's Water Lilies
May 14: Van Gogh's The Starry Night
May 21: O'Keeffe's Sky Above Clouds
May 28: Seurat's Sunday in the Park
Meet us on Zoom for guided painting. Different painting each week. No supplies on hand? No worries! Paint kit including acrylic paint, one brush, easel and canvas available for additional fee (pick-up or neighborhood delivery). 
$75 for 4-class series; $20/single class (add friends to your screen just $12 each) CLICK TO REGISTER
Optional add-ons for At-Home ART&Wine Nights
canvas, acrylic paints, brush, mixing plate, wiping cloth: $15
canvas only: $10
tabletop easel: $5
We hope to see you back in the studio again soon!
Includes guided painting lesson on real gallery stretched canvas, use of acrylics, smocks and all supplies, and a glass of wine!
BYOB (and snacks!) optional
Great date nite, ladies' night out, or just come solo and meet new people.  Follow the lesson or do your own thing!
Teens may attend but MUST BE 21 to consume alcohol.
The Paintbrush After Dark: Adult Open Studio Night
Featuring Pandora Psychic*
Thursday, June 13, 2019
7:00-9:00p.m.
$21/person
Includes open art stations, one canvas and use of acrylic paints and smocks, cups and napkins.
BYOB and snacks
773.636.1968 or thepaintbrush@thepaintbrush.net
*10-minute reading event special: $27 (normally $55)
It's open studio time for adults! Paint a canvas, relax with adult coloring, try your hand at origami and more. BYOB for extra fun. With Special Guest PANDORA PSYCHIC on hand for readings ($27 for 15 minutes). No rules, no instruction, just you, discovering ART your own way! $21 per person.
Scenes from our last Adult Open Studio Night: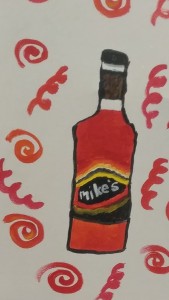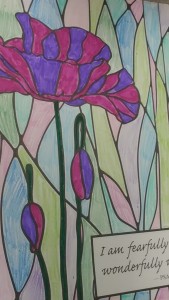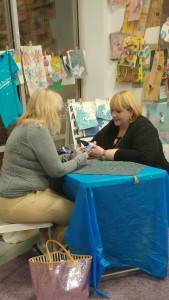 Scenes from ART and Wine Nights: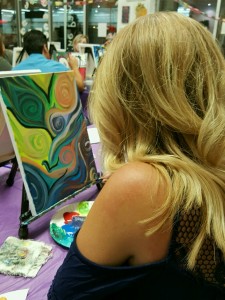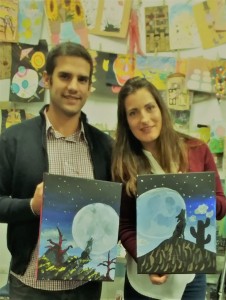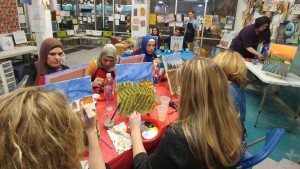 ART and Wine Nights
Guided painting classes for teens and adults. No art experience necessary. (Must be 15 to participate; must be 21 to consume alcohol.)
ART and Wine Nights also available by appointment. Minimum 4 participants, maximum 20 participants.
NEXT EVENTS: 
TBD
$35/person
Events fill quickly. Reserve your spot early.
More info below the fabulous photo gallery!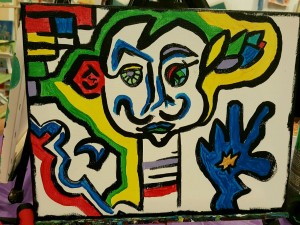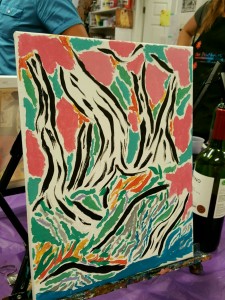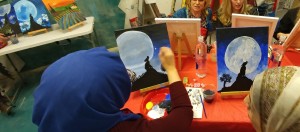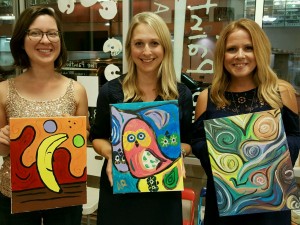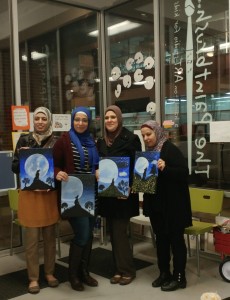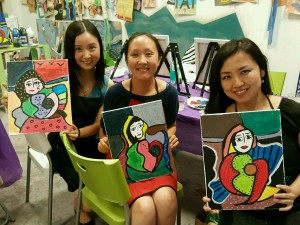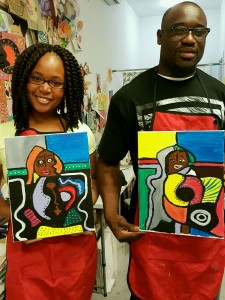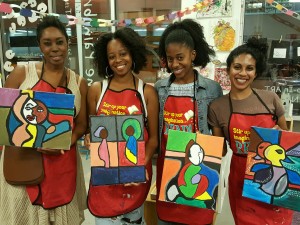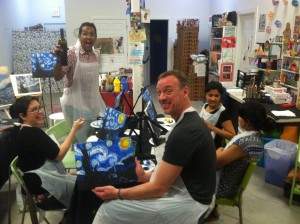 "Thank you so much for organizing my event last evening.  We had a wonderful time!  [The teacher] was great,  and everyone really enjoyed it. Cheers." – Meg (private ART and Wine birthday pARTy)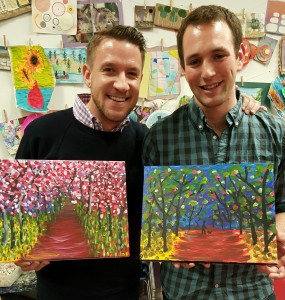 "This was so much fun! I have never painted before and it was a blast! I can't wait to go back!" — Jenny, first-time painter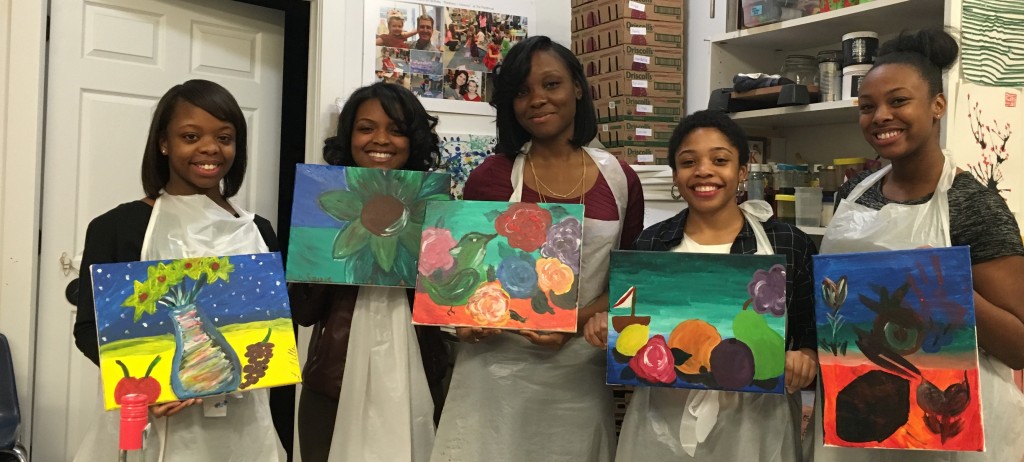 Great for date night, birthday celebrations, girls' night out, or come alone and meet new people.
BYOB. Cups and napkins provided. You may also bring appetizers.
$35 ticket gets you 2 hours of studio time, gallery wrapped canvas, and a fully-guided painting lesson.
Reservations required.
Schedule a 2-hour class for 4-20 people: 2 hours, $35/person.
Private pARTies available for groups of 6 or more; 2.5hours, $40/person.
Or… let us bring the pARTy to YOU!
What makes The Paintbrush a unique venue to try out BYOB ART and Wine:
1. Our location is an actual operating art studio rather than a noisy crowded venue, bar or restaurant.
2. Our classes are instructed by an art educator and artist who offers perspective on artists' backgrounds and historical art movements during the class.
3. Although it is a guided class based on a singular painting, the emphasis is on creative expression with/through an introduction to basic techniques. Everyone's painting should be different and uniquely theirs instead of identical to the teacher's or to each other's.
4. This isn't your run-of-the-mill paint-by-numbers class, this is an art experience!
5. You'll come away from this class saying, "I did this!"
This is the kind of class that you'll want to come back and do again. Every painting has a different focus.
"I liked how the instructor encouraged everyone at the beginning of the class to use their own colors and to not be afraid of making mistakes. Awesome class!" -Stephanie Sullivan
"I came with a group of my friends not knowing what to expect. I'm so proud of my painting! I went out and bought a set of paints!" – -Jennifer Coolidge 
"Very laid back and unlike the other classes I've taken with my wife, I learned a little bit of Art History. I really enjoyed it, there's no pressure to be perfect." -Mateus Unger