Do-At-Home ART Kits
Until you can come back to class, we are creating unique Do-At-Home ART Kits to keep your kids happy and creative while we are all at home during the Pandemic.
ART Kits may be picked up (no-contact) or delivered for $5 delivery fee (to LP/Lakeview/GoldCoast/Logan Square) … not sure if you're in our delivery range? Text us your address!
Unless otherwise noted, please Text 773.636.1968 or email thepaintbrush@thepaintbrush.net To Order.
In addition to ART Kits, we have ART supplies! Let us help you replenish your kids' at-home studio. We have scissors, glue, glue sticks, glitter, paper (easel paper, construction paper, water color paper, finger paint paper, drawing paper), paint (washable tempera in 10 colors, finger paint, watercolor), crayons, markers. We have other things to! Let us know how we can help you!
Do-At-Home Pride ART Kit
Get ready to celebrate Pride! This Mini-ART Kit is packed with rainbow and unicorn tattoos; hand stickers in rainbow colors; rainbow crayon; and a rainbow of tempera paints, a brush and paper to create your own Pride ART! (optional add-on: glitter and glue stick $4) $15
Do-At-Home Super Hero Cape ART Kit
Have fun designing and decorating your own Super Hero Cape! Includes white cape and fabric markers. $16
Text 773.636.1968 to Order
SandFlowers
Paint beautiful flowers on canvas with paint and sand. Includes paint, canvas, sand, brush, glue and video lesson link. $25
Text 773.636.1968 to Order
Decorate Your Own Puzzles: Two blank white jigsaw puzzles  that your kids can design with markers, crayons, colored pencils or sharpies.2/$5 Text 773.636.1968 to Order
Tissue Flowers: Pre-cut tissue paper and green chenilles with instructions to create beautiful. colorful tissue paper flowers.3 for $5  Text 773.636.1968 to Order
Crafty Kids Do-At-Home ART Kit: Replenish your kids' art supplies and keep them happily creating for hours! Washable tempera paints, crayons, glue stick, scissors, paper, stickers, pompoms, buttons, wooden craft sticks, a wooden paintable, and so much more! $30 Text 773.636.1968 to Order
Monet-in-a-Bag ART Kit: Everything your budding artist needs to create our signature Claude Monet's Water Lilies art project. Instructions included. Also included: materials to create our studio art project inspired by James Ensor's "Stars In the Cemetery" painting. Online lessons also available as add-ons. $35; $41 with lesson links
Calder-in-a-Bag Do-At-Home ART Kit: Working with some recycled and some new items, this ART Kit has two different projects inspired by Alexander Calder's stabiles. Includes lesson links. $20 ONE LEFT! Text 773.636.1968 to Order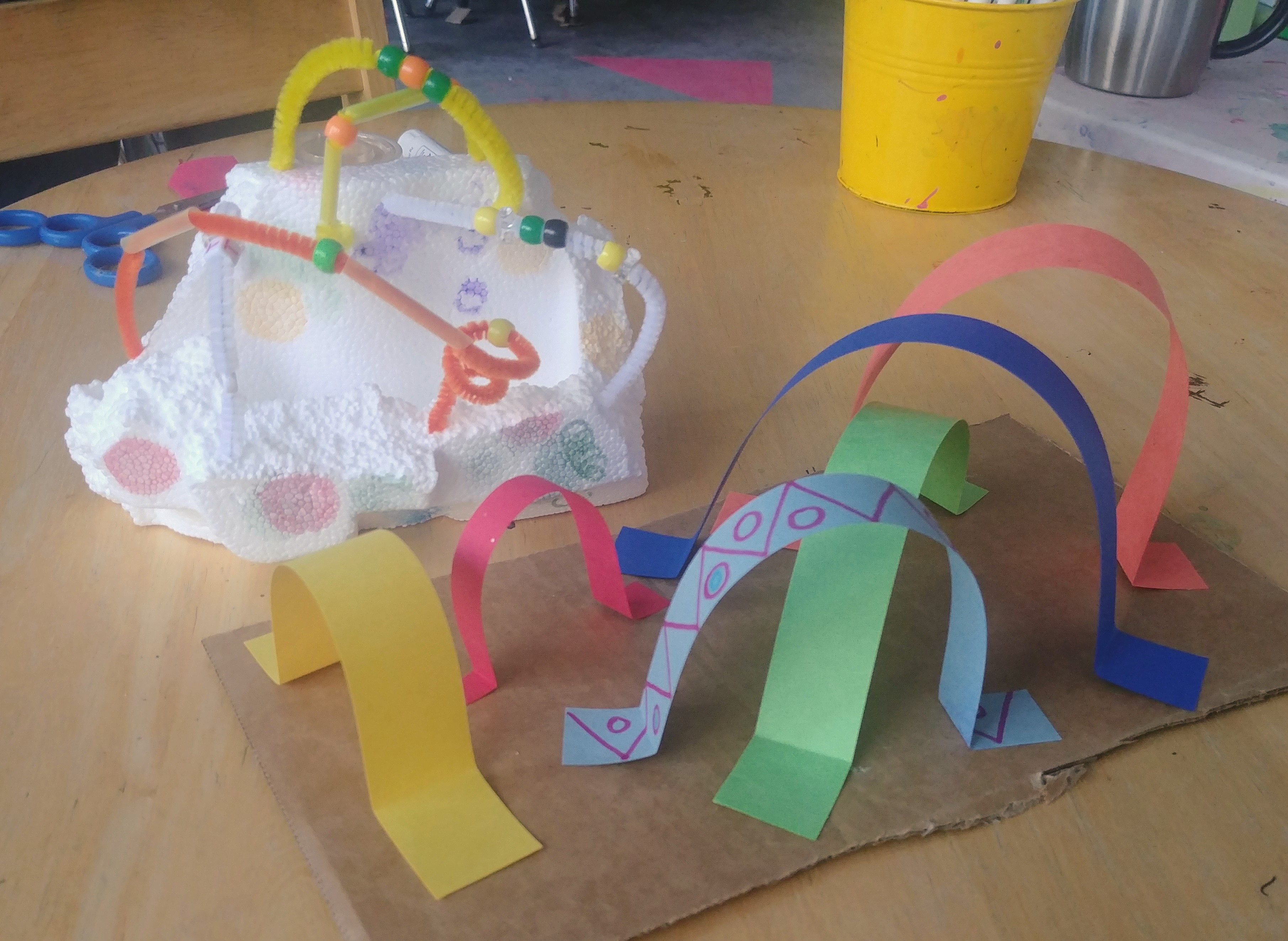 Little Fingers Do-At-Home ART Kit: The Original! Fingerpaints and paper and jumbo dinos to paint, and more little goodies for little fingers. One left! $23 Text 773.636.1968 to Order
Little Fingers Do-At-Home ART Kit #2: Until your tots back can come back to our Little ART Explorers and Tiny ARTists classes, we're bringing the ART to you! Jumbo ART supplies for little fingers. $23 (Add finger paints, finger paint paper, and jumbo paintable paper dinos $12.) Text 773.636.1968 to Order