Drop-In ART
773.636.1968                  thepaintbrush@thepaintbrush.net
DROP-IN ART
Pop-Up Drop-In ART!
Wednesday, September 22, 9:30am-10:45am
RESERVATIONS REQUIRED
*You may be automatically asked to join the Waitlist. When the waitlist reaches minimum capacity, we will release the spots to you (please look for an email or text directing you to complete your registration) and then open up the registration link to complete capacity.
Featuring our traditional following-directions ART project, our beloved library of ART books, our favorite easel painting, plus coloring, and a play dough table (fee includes one personal can of play dough).
$18/CHILD
One adult per child.
No drop-offs.

The Paintbrush t-shirt: $15
Additional can of play dough: $3
Smock rental: $2
ALL PARTICIPANTS AGES 2 and up MUST PROPERLY WEAR A MASK (over NOSE AND Mouth) AT ALL TIMES WHILE IN THE STUDIO.
Limited number of spots available. ALL PARTICIPANTS MUST HAVE RESERVATION TO ENTER!
No food or drink allowed in the studio at this time.
Stroller parking outside under the overhang.
We will take every precaution possible to make this event safe for you and your kids. Our staff is vaccinated, however we cannot guarantee the vaccination status of our participants. Therefore, attending this event is at your own risk and by attending you agree not to hold The Paintbrush responsible if you or someone in your group should become ill after attendance. No refunds. If you change your mind, text or email us at least 2 hours prior to event. If we have a waitlist and are able to invite a child to take your spot, we will issue you a credit toward upcoming class or other event. We regret that we are unable to refund your fee at any time, and we will will be unable to issue you a credit if we cannot fill your spot.
Drop-In ART  is not intended to substitute for formally instructed art education. It is intended only as a time for kids to express themselves artistically with minimal boundaries under the guidance of their parents/caregivers and under the supervision of The Paintbrush staff. For those looking for a teacher-lead class experience for your kids, please see our class listings for children ages 1 to 12. 
 "Nick's preschool teachers are so impressed with his painting skills! He gets so much enjoyment from [Drop-In ART!" — Betsy, mom of Nick, 2
"This is Heaven!" — Mom of 2-year-old Giusseppina, after intro to all we have to do at Paint&Play [Drop-In ART}
"I work full-time, so this is a real treat for me to spend this time with my daughter. Creating art with her is so relaxing and therapeutic!" — Mom of Sona, 5
"This place is GREAT!" — lots of parents and nannies!
"My girls absolutely love coming to see you and doing art so a big thank you for always making their time there so enjoyable!" — Lauren, mom of Belle, 5 and Georgina, 2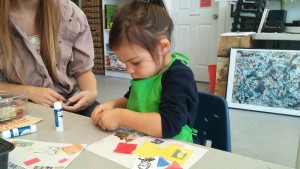 painting cars with cars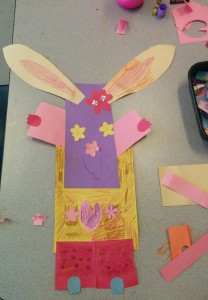 "Bunny" by Ella, 5
Stop by on Mondays and Tuesdays from 9:15 to 11:00 and occasional other days noted via email, posted on our website, our facebook page, sent on Twitter, for an open ART studio experience with your child.
This is not a class. It's open studio time for you and your children to explore art together.
Choose from among the daily offered ART exploration stations: (which may include but are not limited to) watercolors, tempera painting, drawing, scissoring skills, ART books and puzzles, ART toys and tactile manipulatives, play-foam, easel painting, creation station, painting table, shaving cream table and more.
PAINT&PLAY is a fun way to spend time working one-on-one with your kids in a non-structured setting. PAINT&PLAY is open to all children, not just our students!
PLEASE BRING DRY SHOES FOR ALL PARTICIPANTS DURING SNOWY MONTHS!
*paying by cc? please add $2/child
Adults are always free.
Tots under 1 year are free when accompanied by paying child.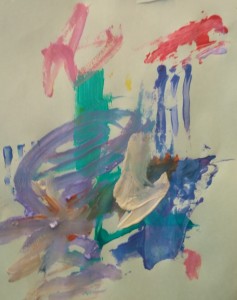 Tots are natural abstract ARTists!
PLEASE PARK STROLLERS OUTSIDE.
We want YOU to come see what the FUN is all about!