Drop-In Art
Drop-In Art 
IMPROMPTU DROP-IN ART: Wednesday, July 25, 3:30-5:00p.m. $12/child
ADULTS-ONLY Drop-In ART: Tuesday, August 12, 7:00-9:30 $25/person
Drop-In Art 
Mondays and Tuesdays, 9:15-11:00
Please note, we will not run Drop-In ART on the following dates due to Summer ART Camp and Holidays: 
6.26 & 6.27, 7.4, 7.24 & 7.25, 8.21 & 8.22, 8.28 & 8.29 and Labor Day
$10/child*
all ages; no reservations required
Must be accompanied by participating adult.
Stroller Parking outside.
Bring shoes to change into on snowy/rainy days.
"This is Heaven!" — Mom of 2-year-old Giusseppina, after intro to all we have to do at Drop-In ART
"I work full-time, so this is a real treat for me to spend this time with my daughter. Creating art with her is so relaxing and therapeutic!" — Mom of Sona, 5
"This place is GREAT!" — lots of parents and nannies!
"My girls absolutely love coming to see you and doing art so a big thank you for always making their time there so enjoyable!" — Lauren, mom of Belle, 5 and Georgina, 2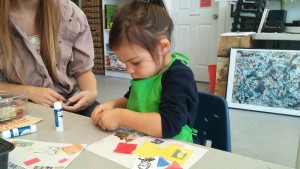 painting cars with cars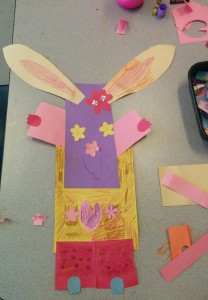 "Bunny" by Ella, 5
Stop by on Mondays and Tuesdays from 9:15 to 11:00 and occasional other days noted via email, posted on our website, our facebook page, sent on Twitter, and advertised on the GoLakeview app, for an open ART studio experience with your child.
This is not a class. It's open studio time for you and your children to explore art together.
Choose from among the daily offered ART exploration stations: (which may include but are not limited to) watercolors, tempera painting, drawing, scissoring skills, ART books and puzzles, ART toys and tactile manipulatives, play-foam, easel painting, creation station, painting table, shaving cream table and more.
Drop-In ART is a fun way to spend time working one-on-one with your kids in a non-structured setting. Drop-In ART is open to all children, not just our students!
PLEASE BRING DRY SHOES FOR ALL PARTICIPANTS DURING SNOWY MONTHS!
*paying by cc? please add $2/child
Adults are always free.
Tots under 1 year are free when accompanied by paying child.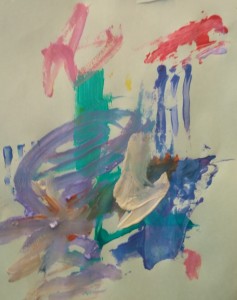 Tots are natural abstract ARTists!
PLEASE PARK STROLLERS OUTSIDE.
We want YOU to come see what the FUN is all about!