Drop-In Art
Drop-In Art and Drop-In StoryART
New days! New times! New programs for fall 2015.
"This is Heaven!" — Mom of 2-year-old Giusseppina, after intro to all we have to do at Drop-In ART
"I work full-time, so this is a real treat for me to spend this time with my daughter. Creating art with her is so relaxing and therapeutic!" — Mom of Sona, 5
"This place is GREAT!" — lots of parents and nannies!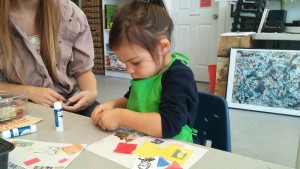 Drop-In Art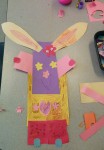 Stop by on Mondays and Tuesdays from 9:15 to 11:00, & one Saturday per month 1:00-2:30* and occasional other days noted via email, posted on our website, our facebook page, sent on Twitter, and advertised on the GoLakeview app, for an open ART studio experience with your child.
Choose from among the daily offered ART exploration stations: (which may include but are not limited to) watercolors, tempera painting, drawing, scissoring skills, ART books and puzzles, ART toys and tactile manipulatives, play-foam, easel painting, creation station, painting table, shaving cream table and more. Then do a special ART project to take home with you.
Drop-In ART is a special way to spend time working one-on-one with your kids in a non-structured setting. Drop-In ART is open to all children, not just our students!
$10 per child. (paying by cc? please add $2/child)
Adults are always free.
Tots under 1 year are free when accompanied by paying child.
*Saturday Drop-In ART dates are Tentatively Scheduled based on studio availability: 10/17, 11/TBD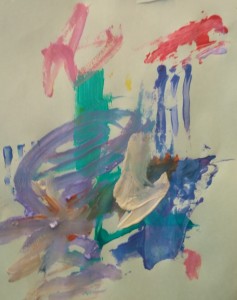 Tots are natural abstract ARTists!
Drop-In StoryART
Drop in Thursdays from 11:30 to 12:30 for Drop-In StoryART. Miss Sara will delight your little ones with animated readings of their favorite stories, from classics to hot-off-the-press new releases. After stories kids will have a chance to act out their favorite parts of the story thru creative play with toys and costume pieces. And of course there's ART! As always, our ART will be inspired by what we've learned (in this case, the stories we've read).
Thursdays, 11:30-12:30
$10/child
Adults are always free. Tots under 1 year are free when accompanied by paying child.
Paying by cc? Please add $2/child.
PLEASE PARK STROLLERS OUTSIDE.
StoryART will begin promptly. Please be on time; once we get started latecomers will not be admitted, so as not to disrupt the program.
We want YOU to come see what the FUN is all about!