What People Are Saying
"My kids really really love their teacher and they have had a great time this session. See you in the fall!" Caitlin, mom of Devin and Isaac
"This is not an arts and crafts class, but a real art class where the kids work with real artists and their work!" Anna, mom of Sofie and Delaina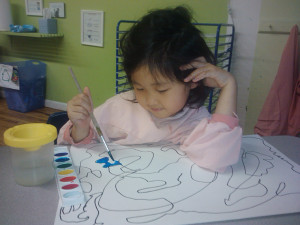 "My daughter has brought home art from pre-school, park district classes, art class, etc., and maybe 1 out of 1000 was worth keeping. With the art that she brought home from The Paintbrush, every piece was worth framing." Adam, father of Morgan, 5
"[I want to express] my thanks and total awe to the women who led the Painting Like Pollock activity [at Lincoln School's Serendipity Day]. [My daughter] Julia came home with a really amazing canvas that I can't wait to hang. I've long thought of getting her some small canvases and paints to see what she would create but had no idea how to direct her. It was a great activity and I feel so fortunate that she was able to participate." Katie
"Both the class itself and the projects my daughter brought home each week exceeded my expectations." Susan, mom of Claire, 4
"The curriculum for my 3-year-old was great!" Jenna, mom of Charlotte, 3
"Eli loves his class and is so proud of his Spanish [re: Spanish Immersion ART Class] and art work!" Anna, mom of Eli
"My daughter asked if we could have [ART] camp every day." Tammy, mom of Abby, 7
"My 5-year-old son recognizes Monet at the Art Institute and has learned where France is on a map. My two-year old asks if she can paint on the wall and make a mural (no!). Through repetition of schedule and the introduction of new artists and different music my children are gaining a great cultural appreciation and foundation. I'm learning too!" Kerri, mom of Aidan, 5 and Vivian, 2
"My son and I attended a birthday party [at The Paintbrush] and it was one of the best parties we've been to. You guys were awesome. You did such a great job and the art pieces were awesome. You totally connected with my son and made him feel comfortable." Cathy, mom of Joey, 5
"Camp at The Paintbrush is like a 3-hour birthday party!" Alex, mom of Seth, 5
"My 2 1/2-year-old recognizes Vincent van Gogh's self portrait. My 5-year-old asked to see the Andy Warhol exhibit at the Museum of Contemporary Art!" Melissa, mom of Henry, 5, and Adam, 2 1/2
"My daughter was nervous about her first day of art camp. But on her second day she was so excited she spent the morning asking me if it was time to go to camp yet!" Mom of 4 1/2-year-old
"All day long today my daughter was asking if it was time to go to The Paintbrush. She couldn't wait for her nap to be over." Mom of 2-year-old
"We've been to classes where you can tell the teachers aren't really into it. It's nice to come to class [at The Paintbrush] where you know the teacher really knows what she's doing and really enjoys working with kids." Mom of 2-year-old
"As a working mom, I appreciate the flexibility offered by The Paintbrush, such as the half-day art camps offered on the Chicago Public School holidays. My 4-year-old twins love the music [for inspiration] and art instruction, and as an added bonus, in the process they have retained knowledge about historical figures such as George Washington and Native American chiefs." Michele, mom of Hayley, 4 and Justin, 4
"Thank you for a wonderful session and happy 10th anniversary! " Melissa, mom of Liam, 2
What Our Students Are Saying…
"This is the best class for art I've ever had." Hana N.
"You get to make your feelings."  Katie K.
"I can't believe what a beautiful artist we have." Grace H. (about Matisse)
"I love artists and I am one! I can make anything." Danny P.
"I don't want to go home.  I'm having too much fun" Anissa T. on camp
"He must have been a really good artist because he stayed in the lines a lot." Max (about Van Gogh's Starry Night)
"I wish art school (class) was as long as regular school." Ellie B.
"We had a GREAT time at The Paintbrush Camp — it was SO much fun!" Mackenzie 7 1/2 & Anika 5