Drop-In ART
773.636.1968            2446 N. Clark     thepaintbrush@thepaintbrush.net
DROP-IN ART
Drop-In ART is not currently on our schedule.
To schedule a private group Drop-In ART please see below. 
PRIVATE DROP-IN ART
 1 hour 
It's not a class! It's open studio time for you and your child to explore ART together in an informal setting through a variety of hands-on stations to help your kids gain fine motor skills, confidence and a love of ART! Explore ART with you kids through a variety of ART exploration stations: (which may include but are not limited to) watercolors, tempera painting, drawing, scissor skills, ART books and puzzles, ART toys and tactile manipulatives, play-foam, easel painting, creation station, painting table, shaving cream table and more!
Drop-In ART is a fun way to spend time exploring ART one-on-one with your kids in a non-structured setting. Drop-In ART is open to all children, not just our students!
$30/child (minimum 4 kids).
No more than One adult per child. No drop-offs.
For ages 1-6 with one participating adult per child.
Stroller parking outside on the brick terrace.
No eating or drinking in the studio during this event.
Purchase The Paintbrush t-shirt: $16
Add a canvas to make a keepsake painting: $6-10
Email Theaintbrush@ThePaintbrush.net or text 773.636.1968 to schedule your Private Drop-In ART. Please provide at least 2-3 days/times that work for you (so we can work around our scheduled classes and camps), as well as the number of kids in your group and their ages.
Drop-In ART  is not intended to substitute for formally instructed art education. It is intended only as a time for kids to express themselves artistically with minimal boundaries under the guidance of their parents/caregivers and under the supervision of The Paintbrush staff. For those looking for a teacher-lead class experience for your kids, please see our class listings for children ages 1 to 12. 
 "Nick's preschool teachers are so impressed with his painting skills! He gets so much enjoyment from [Drop-In ART!" — Betsy, mom of Nick, 2
"This is Heaven!" — Mom of 2-year-old Giusseppina, after intro to all we have to do at Paint&Play [Drop-In ART}
"I work full-time, so this is a real treat for me to spend this time with my daughter. Creating art with her is so relaxing and therapeutic!" — Mom of Sona, 5
"This place is GREAT!" — lots of parents and nannies!
"My girls absolutely love coming to see you and doing art so a big thank you for always making their time there so enjoyable!" — Lauren, mom of Belle, 5 and Georgina, 2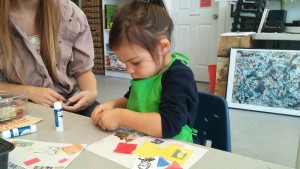 painting cars with cars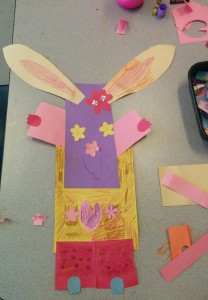 "Bunny" by Ella, 5
PLEASE BRING DRY SHOES FOR ALL PARTICIPANTS DURING SNOWY MONTHS!
Tots under 1 year are free when accompanied by paying child.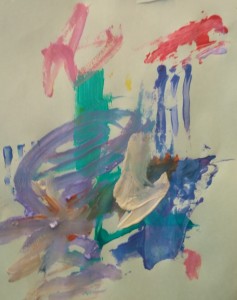 Tots are natural abstract ARTists!
PLEASE PARK STROLLERS OUTSIDE.