Birthday pARTies
773.636.1968              NEW ADDRESS: 2446 N. Clark     thepaintbrush@thepaintbrush.net
CREATE AND CELEBRATE!
We Put the ART in pARTy!
The Paintbrush offers unique ART Celebrations for children ages 4 and up, (and for adults, too).
Let The Paintbrush help you celebrate with one of these

A

R

T

sy options:
Small group birthday workshops and drop-off p
A
R
T
ies available in the studio for kids ages 4+. 
For kids ages 4 & up (drop-off only; two adults may stay)
1 hour instructed

A

R

T

 class
Half-hour celebration (cake and/or lunch or snacks)
Use of

A

R

T

 materials
Balloons on your birthday child's chair
Paper plates, napkins and forks (by request)
$195 deposit required
$95 + $35/guest
Last-minute fee*: $50
Project choices: Happiness Frame, Slime!, Koning Llewellyn's Daisy Painting, Monet's Water Lilies, Calder's Stabile**, Tie Dye (other projects may be available for additional fee)
*last-minute fee applies to p

A

R

T

ies booked within 7 days of p

A

R

T

y date; require payment in full upon booking
**subject to availability
Email or text for specific info for your p

A

R

T

y! 773.636.1968 ThePaintbush@ThePaintbrush.net
For kids ages 4 & up (drop-off only; two adults may stay)
1 hour instructed

A

R

T

 class
Use of

A

R

T

 materials
$145 deposit required
$45 + $35/guest
Last-minute fee*: $40
Project choices: Happiness Frame, Koning Llewellyn's Daisy Painting, Slime!, Monet's Water Lilies, Calder's Stabile**, Tie Dye, project of the week (other projects may be available for additional fee)
*last-minute fee applies to workshops booked with less than 1 week lead time; requires payment in full upon booking
**subject to availability
——————————————————————————————————————–
Let us put together an
A
R
T
gift for your budding
A
R
T
ist! 
Basic

A

R

T

Kit: Canvas, water color paint and a table-top easel packed festively in a gift bag. Just $15
Choose from any of our available Do-At-Home

A

R

T

Kits (price varies)
We will add a personal birthday note from you (if requested)
GCs also available. Order via text.
——————————————————————————————————————–
We make great
A
R
T
-fun Goody Bags, too! Filled with
A
R
T
fun, our goody bags are great for kids of all ages.
Order one for your birthday child or order enough for all the guests at your at-home or in-studio celebration
$10 single bag
$7.50 for 2 or more
All Goody Bags include a FREE CLASS PASS !
Great for kids of all ages!
Email ThePaintbrush@ThePaintbrush.net or Text 773.636.1968 for more info and to order.
——————————————————————————————————————–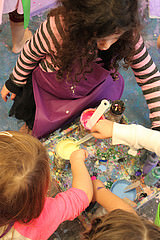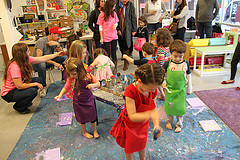 A La 'ART Menu
The following items are available for your convenience at an additional fee. 
Temporary Tattoo Station (run by pARTy staff)
Invitations
Paper goods (plates/napkins/forks)
Juice/water/milk
Pizza
Snacks
Balloons for everyone
Goody bags
Additional time
Booking Your pARTy at The Paintbrush
No need to leave the house! Call or email us with the following info:
Your birthday child's name
Your birthday child's age
Your preferred date(s) and time(s) (provide at least two)
Mailing address (if you'd like us to send you the invitations)
Number of invitations you'd like
 We will email you back with your custom pARTy Info Letter
Call or email us today to plan your perfect ART pARTy — birthdays, Valentine's Day, Halloween, and more! Adult pARTies too! Weekends and some limited weekdays available!
Our birthday pARTies are great for children ages 4+! We customize your intimate pARTy to make it age-appropriate to your group. You'll enjoy the opportunity to sit back and watch your child create and celebrate. We take out all the stress of planning your child's birthday pARTy. At The Paintbrush, you get to be a guest at your own pARTy! You're not renting a space, you're hosting a customized pARTy. We've taken all the guesswork out of your pARTy, because we provide our own unique pARTy experience!
"[My daughter's pARTy] yesterday was fantastic!!! Your staff was magnificent and everyone had a wonderful time. Thank you so much! Aria will definitely come here for art class."   –– Maria, Aria's mom
"We had a wonderful time at The Paintbrush for Caroline's third birthday! Everything was so well organized and thought out. The kids had a wonderful time. My girlfriends kept saying they need to have their next party there too. Thank you again for a wonderful time!!" — Katherine, Caroline's mom
Prices and p
A
R
T
y packages subject to change at any time without notice. However, once you have signed your p
A
R
T
y info letter and put down your deposit, your p
A
R
T
y will not be subject to new terms or price changes.
All pARTies require a deposit at time of booking.
"Jocelyn had a wonderful pARTy and everyone thoroughly enjoyed it.  Thanks to you and your staff." — Dawn, Jocelyn's mom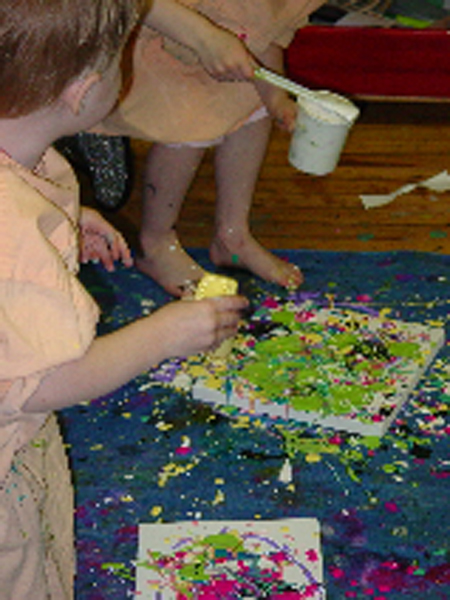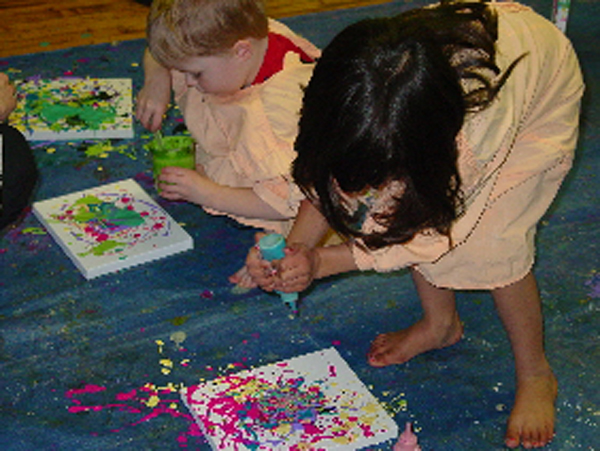 "Could this pARTy have been any easier? All I did was call up The Paintbrush to book my son's pARTy, send out the great invitations they provided, and show up on the day of with my birthday boy, my camera, cake and candles! I'm a busy mom so I had The Paintbrush do everything else. What an easy day it was for me and what fun my kids and their friends had!" –– Julia, Mom of Breck, 6 and Ethan, 4
"We were all very happy with the pARTy. Sophie enjoyed bringing her own painting home! What you do is the best I've seen so far in Chicago (the children learn, create, have fun, and don't get hysterically excited!). You definitely met our standards. I would highly recommend The Paintbrush to anyone." – Rachel, Mom of Sophie, 4 and Elias, 5
"My daughters' birthday pARTies at The Paintbrush were the least stressful pARTies I have ever had! I would definitely recommend The Paintbrush birthday pARTARTies for any busy mom!"
– Kristin, mom of Daisy, 3 and Angeline, 7
"The pARTy was amazing. The people teaching were patient and kind. All the parents were impressed with the paintings." — Emily, Mom of Lillian, 5
"Thanks for the great pARTy on Saturday.  Everyone had a blast." — Tom, dad of Alexandra, 7
"We had a blast! Everything was wonderful! Caroline, Carina and Jesse were amazing. We all really enjoyed it and we will definitely be back!" – Vicky, mom of Camryn, 2
"Easy… Fun… PERFECT!" – Emily, mom of Aubrey, 6
"Just wanted to drop a quick note saying the party went really well!  Thanks for having the process down and being so very professional with everything. You have no idea how many times I've been to a party that seems thrown together or without any flow or direction. This is clearly a well thought-out plan that's been executed several times before." — Jon, dad of Eleanor, 4
"Juliet's pARTy was so much fun! It was so well organized and the teachers were great! Juliet and her friends had a blast." — Emily, mom of Juliet, 8
"Chloe's birthday pARTy was a total success – she and her friends had such a blast, and Miss Alex was such a great leader – it was the smoothest 3-year-old pARTy I have ever been to (and we've been to a lot)! Everyone was raving about how great the project was, and how well the party was run. Hopefully you've got some new customers coming your way…" —Sally, mom of Chloe, 3
"We would like to plan a birthday pARTy for our little girl who is turning 5 this June.  Our son attended a pARTy there for a friend one time and said it was great! " — Corinne, mom of two
"I wanted to let you know what a wonderful time Belle had at her 5th birthday pARTy. Her commemorative art piece is hanging in her bedroom and she talks about it on a nightly basis! Again, many thanks for a great event." — Lauren, mom of Belle, 5
"Sam's party was the most fun and best organized pARTy we have had. Thank you for everything you did to put it together for us. The tattoo station was a huge hit. And Sam is looking forward to picking up his Collaborative Keepsake Canvas when it dries. Having all his friends paint it with him was a terrific idea. What a creative party!"      — Johnny, dad of Sam, 7
"All the kids had a great time and Hina was ecstatic afterwards. Thanks again for giving the kids a great experience!" — David, dad of Hina, 5
"Ivy's pARTy was a blast! The kids had a wonderful time, and [Miss] Alex & [Miss] Kate were great." — Meredith, mom of Ivy, 4
"Thanks again for everything. Zora and all of her friends had the time of their lives. I cannot tell you how much I appreciate you going outside of your normal schedule to accommodate me at the last minute. You truly saved Zora's birthday." — Adrienne, mom of Zora, 6
Throwing awesome, stress-free pARTies since 2005!